عِيدُ الفِطْرِ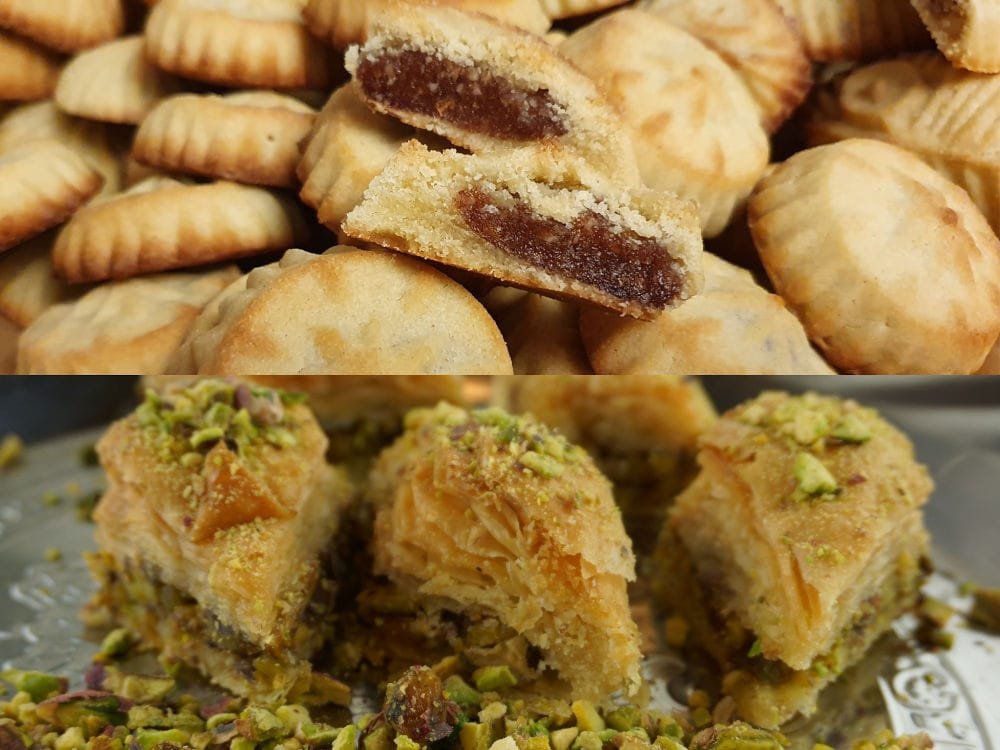 21 نيسان/أبريل 2023 - 1 شوّال 1444
عِيدُ الفِطْرِ
عِيدُ الفِطْرِ احْتِفَالٌ بَعْدَ رَمَضَان. يَحْتَفِلُ المُسْلِمُونَ بِعِيدِ الفِطْرِ فِي 1 شَوَّال. شَوَّالُ الشَّهْرُ العَاشِرُ فِي السَّنَةِ الهِجْرِيَّةِ1.
يَحْتِفُلُ المُسْلِمُونَ بِعِيدَيْنِ فِي السَّنَةِ. عِيدُ الفِطْرِ بَعْدَ رَمَضَانَ، وَ عِيدُ الأَضْحَى فِي وَقْتِ الحَجِّ.
التَّهْنِئَةُ بِالعِيدِ أَو المُعَايَدَةُ
يُهَنِّئُ النَّاسُ الأَهْلَ وَ الأَصْدِقَاءَ وَ الغُرَبَاءَ بِالعِيدِ. وَ تُسَمَّى التَّهْنِئَةُ بِالعِيدِ: مُعَايَدَة.
مِنَ المُعَايَدَاتِ المَشْهُورَةِ2: عِيدٌ مُبَارَكٌ، وَ كُلَّ عَامٍ وَ أَنْتُم بِخَيْر، وَ عَسَاكُمْ مِنْ عُوَّادِه.
يَوْمُ العِيدِ
يَبْدَأُ يَوْمُ العِيدِ بِصَلَاةِ العِيدِ فِي الصَّبَاحِ. بَعْدَ الصَّلَاةِ، يَزُورُ النَّاسُ الأَهْلَ وَ الأَصْدِقَاءَ.
فِي العِيدِ، يَلْبَسُ النَّاسُ ثِيَابَاً جَمِيلَةً، وَ يَصْنَعُونَ أَكْلَاً لَذِيذَاً. وَ أَصْبَحَتْ بَعْضُ الحَلَوِيَّاتِ مِنْ تَقَالِيدِ العِيدِ. مِنَ الحَلَوِيَّاتِ المَشْهُورَةِ فِي العِيدِ: مَعْمُول وَ كلِيجَة وَ بَغْرِير و بَقْلَاوَة وَ بِنْتُ الصَّحْنِ3.
عِيدٌ مُبَارَكٌ وَ كُلَّ عَامٍ وَ أَنْتُمْ بِخَيْرٍ
—
يَوْمُ الفِطْرِ فِي 2023: الجُمْعَة، 21 نيسان/أبريل
---
حاشية – Notes
التقويم الهجري (الإسلامي) قمري، و السنة الهجرية أقصر من السنة الميلادية (التقويم الغريغوري) بأحد عشر أو اثني عشر يوما.
المعايدة: عبارة تهنئة أو جملة يقولها الناس في العيد. ذكرنا هنا ثلاث عبارات مشهورة و يقول الناس في البلاد العربية عبارات أخرى منها: ينعاد عليكم بالصحة و السلامة، كل سنة و أنت طيّب/طيّبة، كل سنة و أنت سالم/سالمة، من العايدين، مبروك العيد، صحا عيدكم، مبروك العواشر، تامين و لامين و من العايدين.
هذه بعض الحلويات المشهورة في العيد و يوجد غيرها كثير. و تشتهر بعض الحلويات في بلاد أكثر من غيرها، فالمعمول في بلاد الشام (سوريا، الأردن، فلسطين، لبنان)، و الكليجة في العراق و السعودية، و البغرير في المغرب، و البقلاوة في تركيا، و بنت الصحن في اليمن.
The Hijri (Islamic) calendar is lunar. It is shorter than the Gregorian calendar by 11 or 12 days.
These are phrases that people say to wish other people a happy Eid or happy holiday during the Eid. The article mentioned three common phrases.
These five are examples of famous Eid desserts. There are many others. Here are some places where these desserts are closely associated with Eid: Ma'mool (معمول) in Syria, Jordan, Palestine, and Lebanon, Kleijah (كليجة) in Iraq and Saudi Arabia, Baghreer (بغرير) in Morocco, Baklava (بقلاوة) in Turkey, and Bint as-Sahn (بنت الصّحن) in Yemen.
---
نسخة مقروءة – Audio version
---
تدريب – Quiz
---
الكَلِمَاتُ الرَّئِيْسَةُ – Vocabulary
عِيدُ الفِطْرِ
Eid al-Fitr
(literally: festival of breaking the fast)
عِيد
أَعْيَاد
festival
festivals
احْتِفَال
celebration / festival
يَحْتَفِل
اِحْتَفَلَ
celebrate
celebrated
السَّنَة الهِجْرِيَّة
Hijri year / Hirji calendar
النَّاس
people
الأَهْل
family
يُهَنِّئ
تَهْنِئَة
congratulate
congratulation
تَهْنِئَة بِالعِيد
wishing (people) a happy Eid
مُعَايَدَة = تَهْنِئَة بِالعِيد
wishing (people) a happy Eid
مُعَايَدَات
مُعَايَدَة plural of
يَبْدَأُ
بَدَأَ
starts
started
صَلَاة
prayer
يَزُورُ
زَارَ
زِيَارَة
visit (v)
visited
visit (n)
يَصْنَعُونَ
they make
تَقَالِيد
customs / habits
الكلمات الرئيسة
كَلِمَاتُ الوَقْت – Time vocabulary
سَنَة
سَنَوَات
year
years
شَهْر
شُهُور
month
months
يَوْم
أيَّام
day
days
صَبَاح
morning
مَسَاء
evening
الكلمات الرئيسة